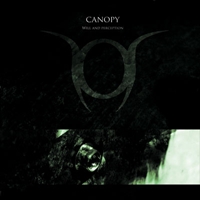 Disconcert Music
2009
[7/10]
www.myspace.com/canopy
Y

es, it's Swedes again. It's in their nature to dominate the European metal cycles. We hardly ever come across a mediocore band hailing from those icy shores.

Canopy
has been releasing their blend of brutality meets melody type death metal since 2004. Don't let this brand new Disconcert Music release of the band entitled
Will And Perception
misguide you. No, it's not the same demo/EP they put out back in 2005. However, all five tracks from that demo EP are present in this new cd in their re-recorded forms. Plus, 'Common Walls' from the band's very first demo is also revised and revisited for this new installment of Will And Perception. That leaves us with only two new tracks, an experimentation of acoustic sounds overlaying electronic structures called 'Councels And Maxims' and 'Riddance'. Latter sounding more or less quite like the band has just finished studying the 'Åkerfeldt songwriting method book'.
Canopy's way of injecting brutal yet catchy death metal aesthetics of their homeland into their own riff writing and song patterns -even though still lacking some creative ideas- is well worthy of exploring. Fans of Dark Tranquillity's late 90's era stuff will also be pleased to hear Fredrik Huldtgren's guttural practices on various moments of the Will And Conception '09.
Want to hear it for yourself?
click here
to get the track numero uno from the CD directly via Canopy official website.